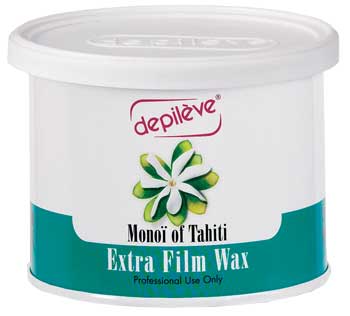 Depileve Tahiti Film Wax - 14oz
Description
New revolutionary stripless "Tahiti Film Wax"

* Use 50% less product than hard waxes... double your profits
* No strips needed
* Applies like soft wax, remove like hard wax.
* Use on all areas and re-apply, if necessary, causing no irritation
* This product is 100% organic
* New "Extra film" wax is a unique formula created by combining Pine rosins with Cocoa Butter and Gardenia Flower Extract.
* Heat on low temperature and applies thin, like film, similar to strip wax formulations
* Tahiti formulation is lustrous in appearance with an Aqua opalescent color and a gentle Gardenia fragrance
* Removes entire root with no stubble left behind. Use when hairs are still short
* Great for Brazilian waxing and other delicate areas; will leave area soft, smooth, and moisturized.
描述
新的革命stripless"塔希提岛电影蜡" *使用少50%的产品比硬蜡……双你的利润 *不需要条 *适用于像软蜡,去除硬蜡。 *使用在所有地区和重新申请,如果有必要,会没有发炎 *本产品是100%有机 *新的"额外的电影"蜡是一种独特的配方由结合松松香和可可黄油和提取栀子花。 *热温度低,适用于薄,就像电影,类似于带蜡配方 *塔希提岛配方是有光泽的外观与一个Aqua乳白色的颜色和温柔的栀子花香味 *删除整个根茬掉队。时使用头发还短 *伟大的巴西脱毛和其他精致的地区,将区域柔软,光滑和滋润。
以上翻译出自百度自动翻译,如有不正确之处敬请谅解!
更多详情请登录 :www.carezzawax.com